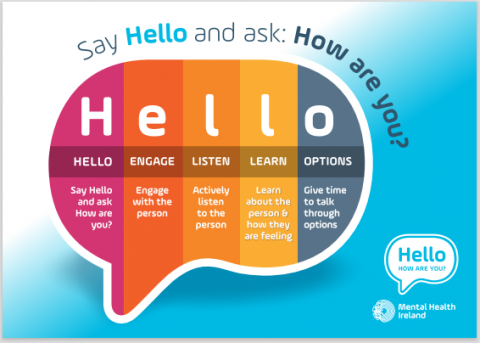 "Hello - How are you?!"
Simple but powerful words.  Thanks to Mental Health Ireland, a campaigning charity, lots of people may start asking each other that question in a meaningful way. In a way that invites a truthful reply and real conversations.  And not just on 7th April, which is World Health Day (and the anniversary of the WHO's founding constitution, 74 years ago), but as a matter of habit.  Here in North Wall CDP we chose 7th April as a day to focus on staff and family members connected with our Little Treasures community crèche.  We thank Michael Bermingham, NWCDP's community worker and mental health champion, for his work on our campaign. 
Here's a short explanatory video from Mental Health Ireland:  https://youtu.be/baznkgB-nmE 
You'll find more on that charity's website here: https://hellohowareyou.info/?external=1
Take good care y'all!