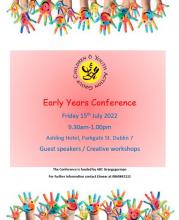 Ann Murphy, NWCDP's General Manager, will be a guest speaker at an important Early Years Conference in mid-July.
The conference will provide great opportunities to learn and meet fellow practitioners. It will be held in the Ashling Hotel, Dublin 7, on Friday 15th July, 9.30am-1pm.
We encourage all childcare professionals to attend.