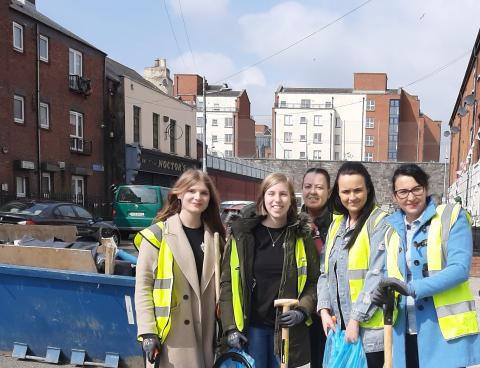 Lots of volunteers helped at today's Sheriff Street Clean Up.  
The Aftercare Recovery Group (based in Dublin 1), volunteers from Five Lamps Arts Festival, staffers from Dublin City Community Co-op and Sunflower Recycling/Green Ribbon and from North Wall CDP.  They left the street spotless and enjoyed the chat and a cuppa too.  Plus, Dublin City Council provided great equipment.  In the main picture, Lisa, Donna and Mirabela link up with two young German volunteers on an internship with the Five Lamps Arts Festival, Tessa and Jule (L-R).
The Sunflower Recycling crew did a great demo on plant potting (see below) and the Green Ribbon Co-ordinator, Janet, chatted about their work.  A big thanks to them, and their help with the clean up. And to everyone who took part and made a difference.