A date to remember!  This Thursday, 1st December, at 5.30pm the Tree of Hope will be lit on the corner of Sheriff Street and Oriel Street, Dublin 1.  All the details are on the poster below. It's always a special event.  Come if you can!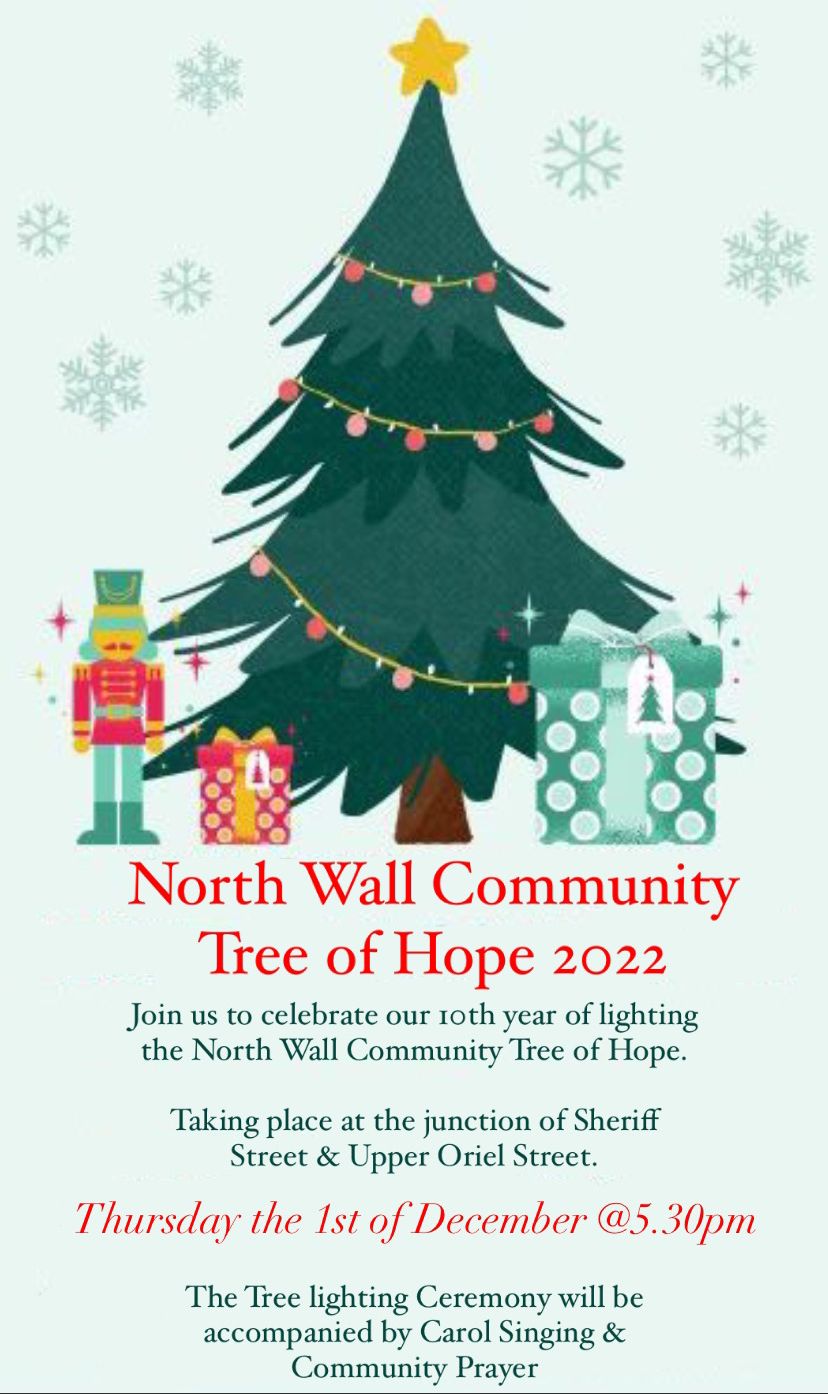 Meanwhile, last Friday afternoon (25th November)  North Wall CDP was engaging in a process of consultation and friendship-building with the @georgesdocklidodublin campaign. The discussions were hosted by the @dogpatchlabs studio a few minutes' walk from Sheriff Street.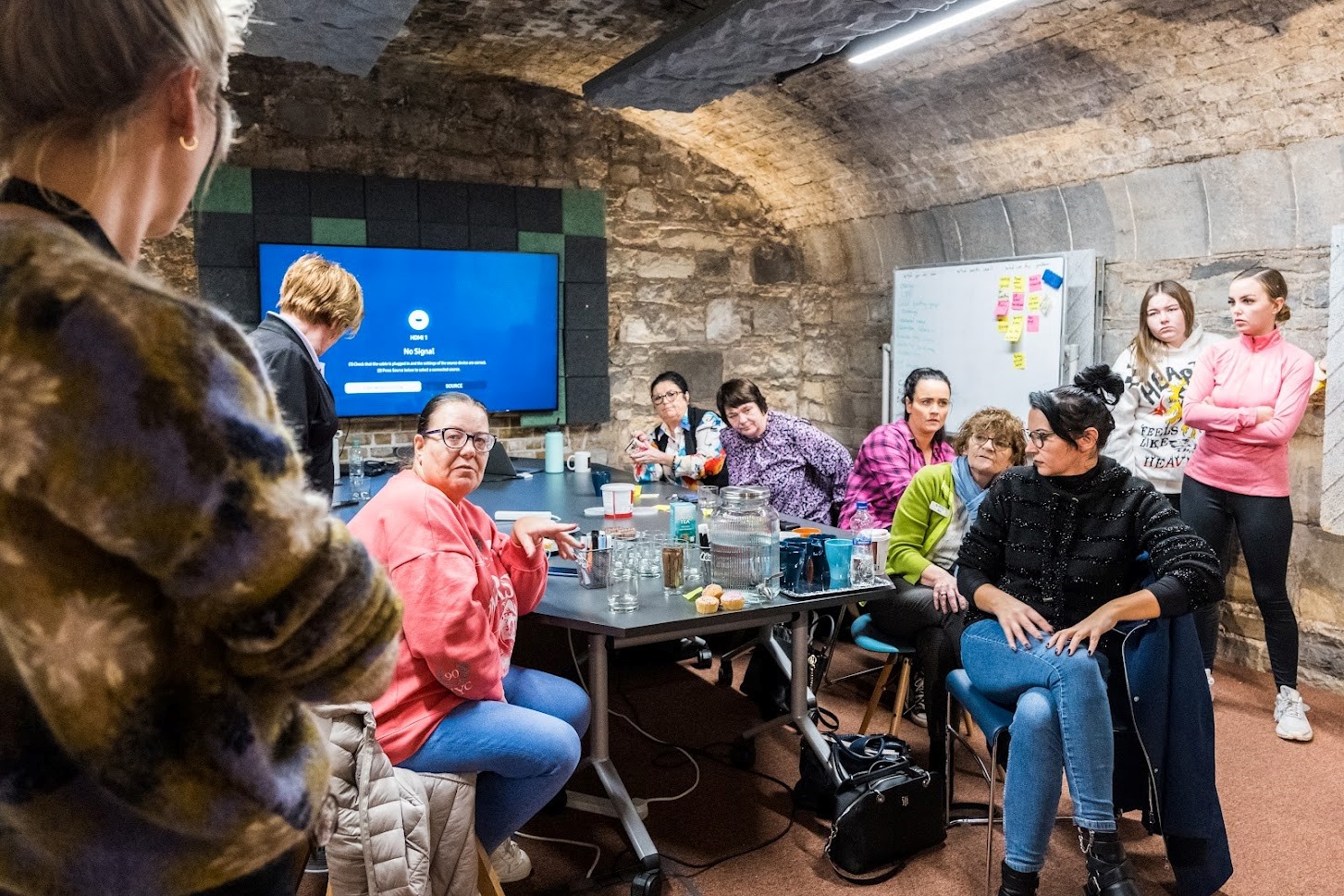 There's genuine excitement for Lido pool plan and the benefits it could bring to our local community.  Here's the discussion underway last Friday afternoon.   Our thanks to the organisers! 
***
On Thursday 10th November, the Central Bank of Ireland hosted Docklands Community Day.  It was an in-person event attended by a number of local community organisations.  The Central Bank is committed to being a socially responsible organisation, and a good neighbour to the Docklands community.  North Wall CDP is delighted to one of their community partners. 
Ann Murphy, our General Manager, presented an overview of the activities that North Wall CDP  engages in.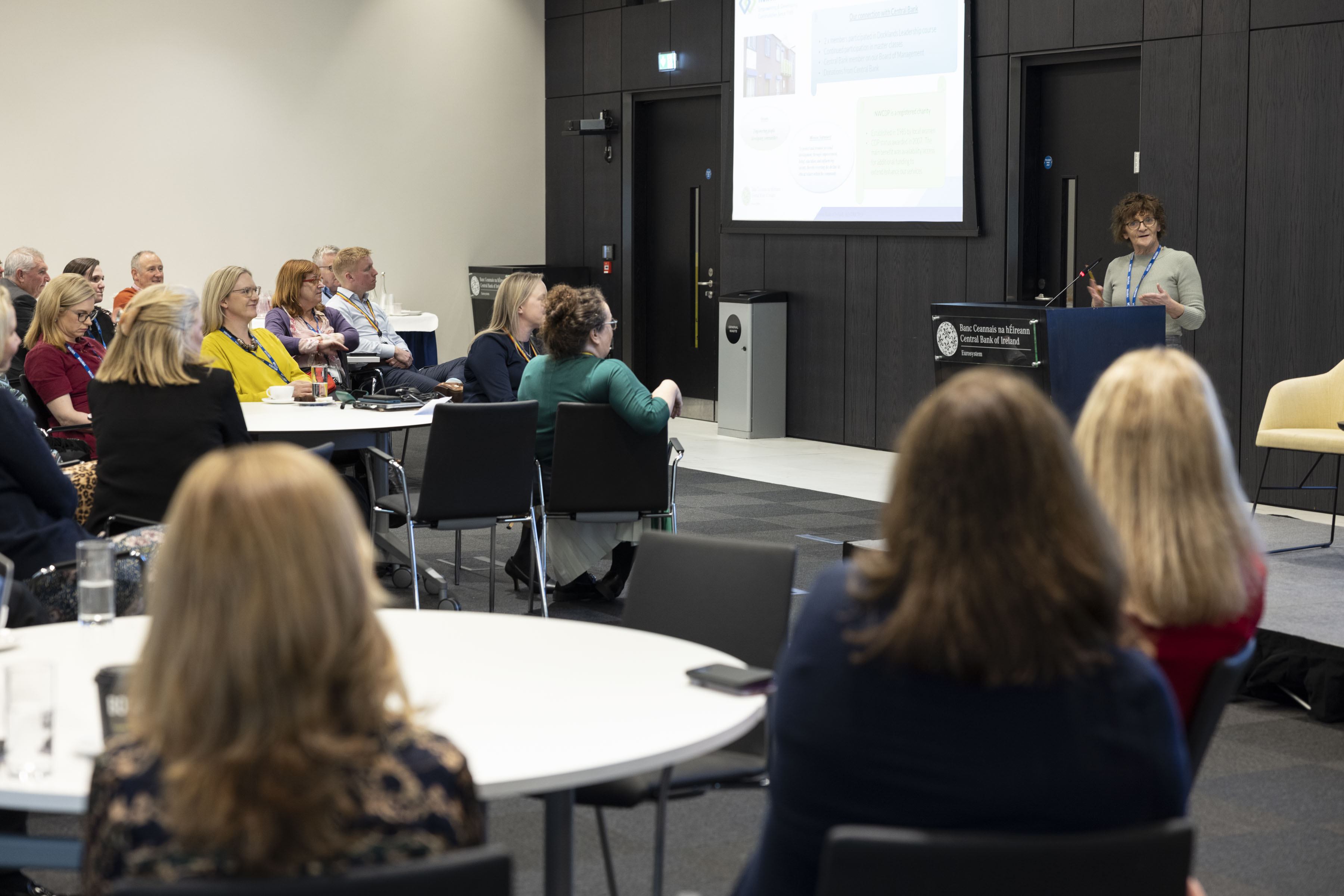 Ann and other attendees also received certificates to mark their participation in the Docklands Leadership course. The course is jointly run by the IOB, a recognised college of University College Dublin, and the Central Bank of Ireland.  Here is Ann receiving her certificate.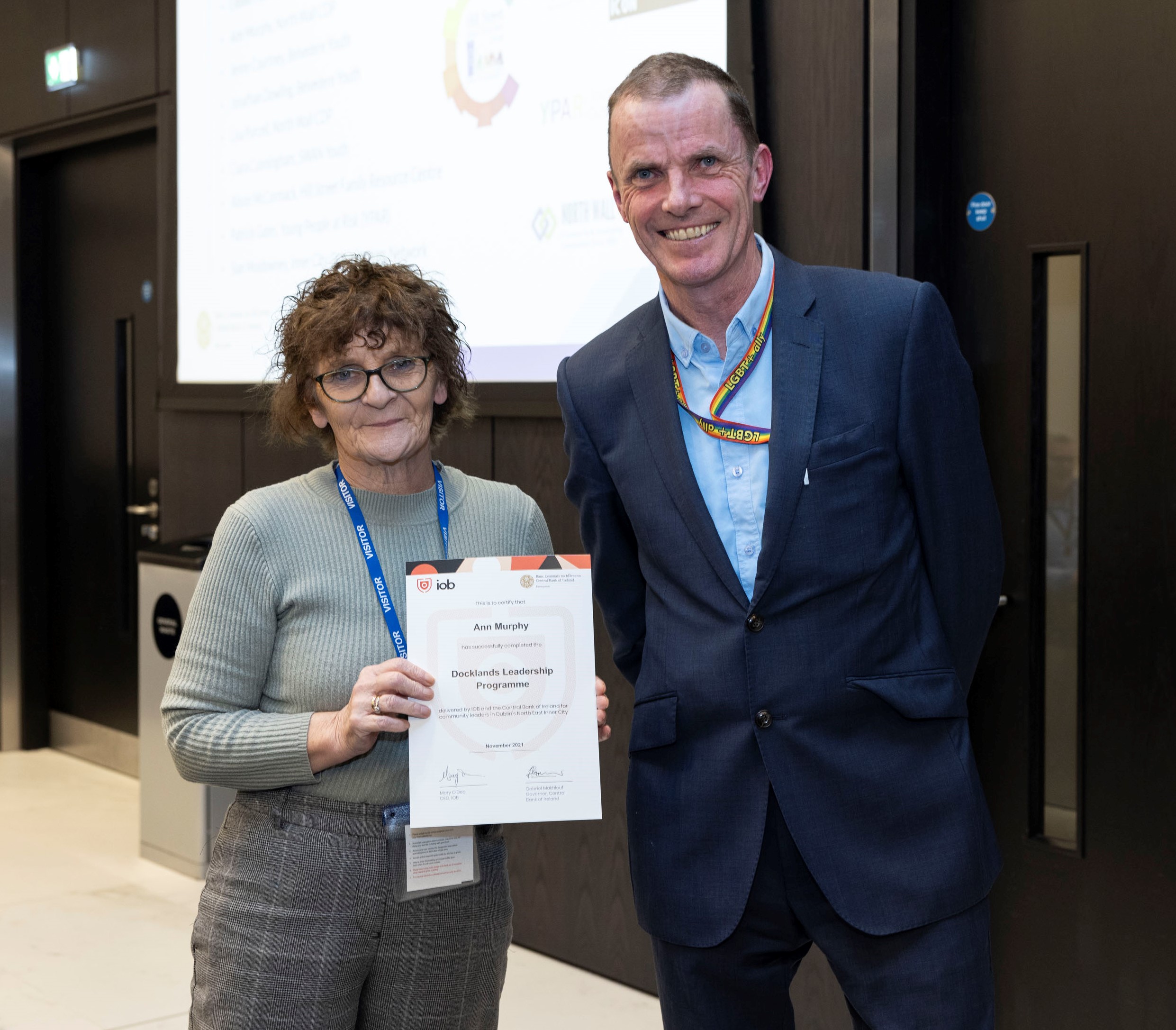 ***
Earlier in the year, long before the World Cup kicked off, Alan McCarthy (NWCDP Community Sports Worker) was busy coaching St. Laurence O'Toole's junior soccer team. Here's his team of  8 – 12 year old, and here's to their future.  Great work Alan, and fine weather for it too!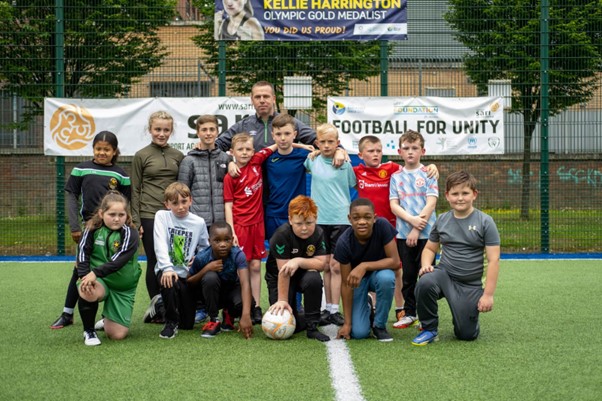 ***
  North Wall CDP is happy to announce that Geraldine Molloy will hold information/assistance clinics in our centre on the 1st Thursday of each month.  The   first will be on Thursday 7th July 2022, 3 pm – 6pm.  Geraldine can assist with:
Advocacy
Issues relating to housing and rent (social & private)
Issues with the Department of Social Protection, the HSE, Housing Assistance   Payment (HAP) and Dublin City Council (DCC)
Forms & online applications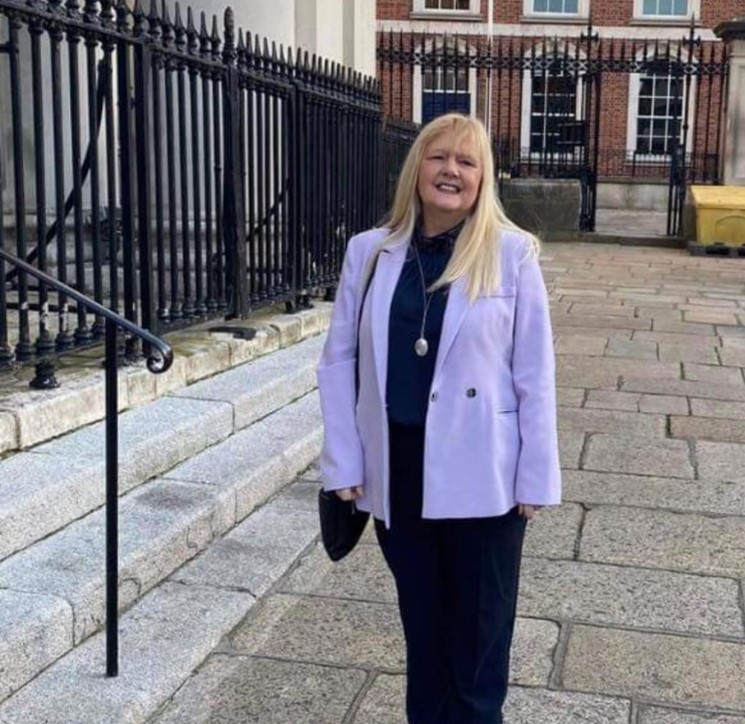 ***
North Wall CDP is one of 13 members of the Dublin City Community Co-op (DCCC).  Accordingly, we took part in DCCC's Annual General Meeting in May. DCCC is an alliance of 13 grassroots community organisations, all based in Dublin's inner city. We come together to ensure that social, economic and cultural services -- all vital to the health of our respective communities -- are delivered.  All 13 Co-op members are partially funded by the National Social Inclusion Community Activation Programme (SICAP) and operate in the most disadvantaged areas of the inner city.
Ann Marie O'Reilly (Chair, NWCDP) and Ann Murphy (General Manager, NWCDP) represented us at DCCC's AGM in May.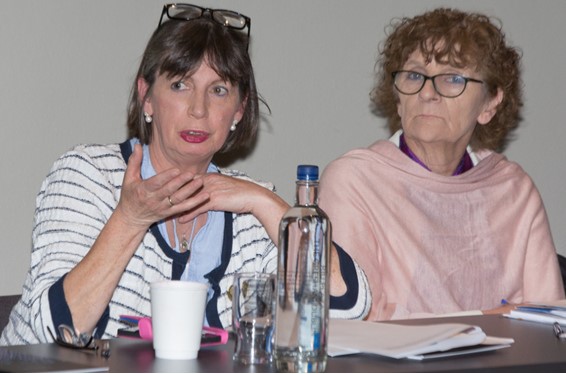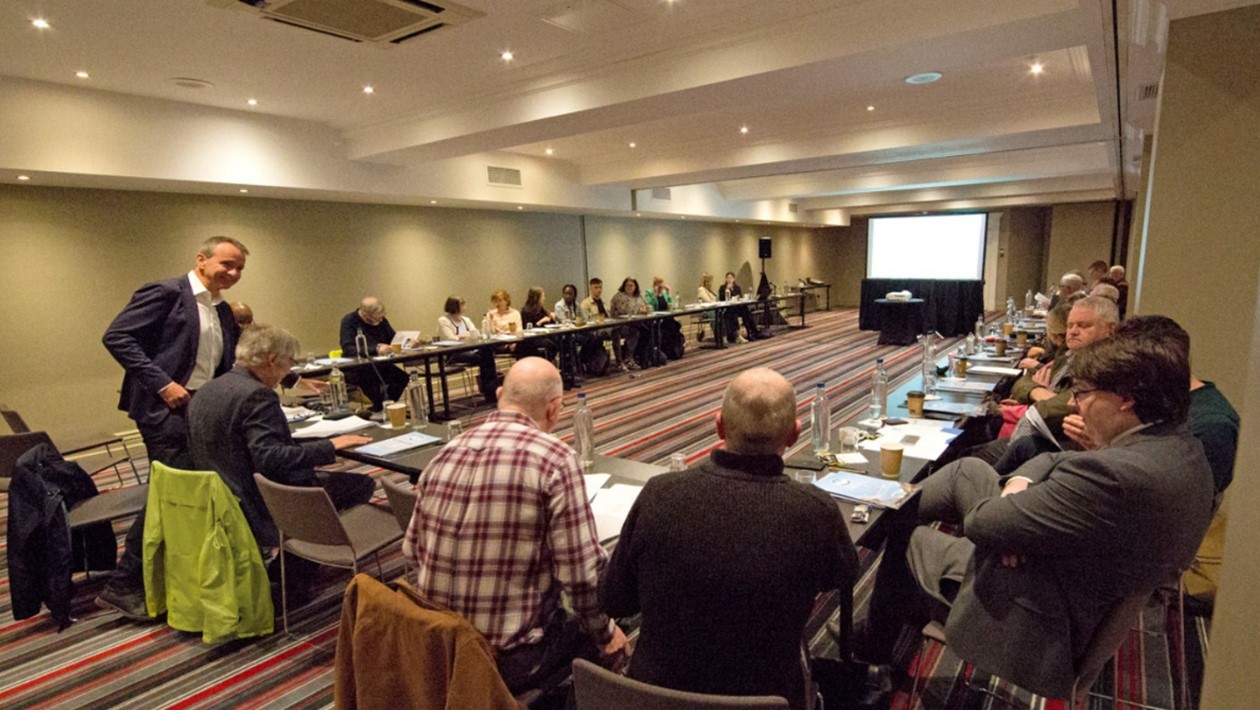 ***
We are proud of our Local Training Initiative (LTI)  learners who are part of the 'Street Kings' soccer team. They are taking part in a 7-a-side football tournament organised by Sport Against Racism  Ireland (SARI).  SARI has organised a month-long Football for Unity festival. It is taking place in venues across the NEIC until Friday 16th July.
There are 6 learners representing Sheriff St. Five are on our current LTI Sports and Recreation course. The sixth player successfully completed the course last year.  Well done on your latest win lads!  
And best of luck to the Street Kings for your match next Monday.
***
North Wall CDP (NWCDP) was established in 1985 as a community initiative. It was originally set up as the North Wall Women's Centre, a place where local women could connect and build their skills and confidence so that they could help support others. Here is a link to a 1980s RTE documentary, 'The Women of Sheriff Street'.
https://www.youtube.com/watch?v=Z9oCGYP01yY
Today, community development is still at the heart of what we do. We work with people and partners in our community to combat social exclusion and ensure better future outcomes for all.
We provide resources, supports and opportunities to help achieve this.  And our building on Lower Sheriff Street is still a meeting point for celebrating International Women's Day, St. Patrick's Day and other major events.
Here is a taste of our community development roles. We provide:
Subsidised childcare that enables parents and carers to avail of training supports and job opportunities, thereby helping them to engage in the society and in the economy. Our 'Little Treasures' early education service also gives children a head start for primary school.
Employment through long-term contracts and CE schemes in a variety of posts, including: childcare, catering, office administration, cleaning/maintenance and community development. CE participants avail of free training opportunities as required by the DEASP
Space for a knitting group, which meets on Friday mornings. This provides a lovely social opportunity for local ladies, many of whom are elderly.
A community garden, located beside our community crèche.  Until late 2019 we ran a gardening club on Tuesday mornings. We hope this will resume shortly.
Advice and other supports to help local people find training and education. 
We designed a 44-week Local Training Initiative (LTI) course on Sports Development which was funded and accredited by CDETB.  This course focus on engaging and retaining the younger members of our community.  This course ran from Autumn 2019 to this summer.  Our LTI team will roll out another Sports-focussed course in September.
Our community suffers from severe socio-economic disadvantage, but is very resilient and has many strengths. NWCDP is wholly committed to working with people who are disadvantaged, either socially, educationally and/or economically in our local community and offer them a route to reach their full potential.